Alan Halliday
Works for Sale
To receive details of new works from the artist
please click here
to join our mailing list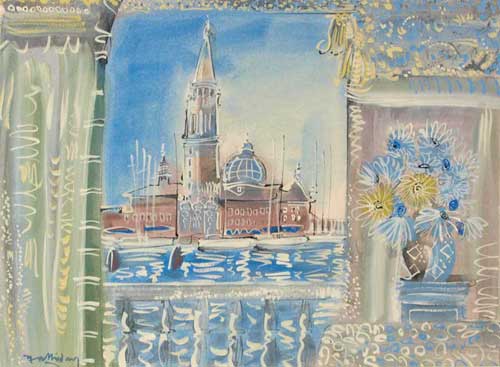 Alan Halliday
View from the Daniele, Venice
Watercolour
56 x 76 cm

Alan Halliday, (b. 1952) is an internationally established British artist. Writing in The Times, the art critic John Russell Taylor said, "Halliday paints what obsesses him. His style is boldly calligraphic. Even his large-scale oil paintings depend largely on the definition of effective line while his smaller works in ink, gouache and pastel are built on a structure of amazingly fluid, spontaneous strokes of the pen; but they are in fact more than that. While the line may define the form, it is the colour which gives it form and life."
Trained at the Courtauld Institute of Art at London University, (1970-74), Halliday was awarded a doctorate in the history of art by Oxford University in 1981. His first mentor was John Piper, the distinguished British neo-romantic painter. Piper encouraged the young artist to build up an extensive archive of sketchbooks to draw on for future use and summed up Halliday's style: "an arrangement of painted marks, all on the surface and yet all in depth".
Alan Halliday

Dancers with Black & Red collage

Watercolour
56 x 76 cm

Halliday has produced a body of work which covers all the major ballet companies including the Bolshoi, the Mariinsky and the Royal Ballet; the Royal Shakespeare Company at Stratford-upon-Avon, the Royal National Theatre, the Peter Hall Company at the Old Vic and Shakespeare's Globe Theatre in London, and dance companies abroad such as Maurice Béjart, Stuttgart Ballet, Dutch National Ballet, New York City Ballet, Cincinnati Ballet, The Caracalla Dance Company in Beirut, and English National Ballet where he was Artist in Residence

Halliday 's paintings are in the collections of Victoria & Albert Museum; the Theatre Museum, The Museum of London and the Folger Shakespeare Library, Washington, USA. His work is acquired by collectors worldwide.

For the Oscar-winning film, Shakespeare in Love, Halliday was on-set artist for four months during the making of the film at Shepperton Studios. The BBC also commissioned him to draw and paint their television adaptations of classic novels such as Tom Jones, Love in a Cold Climate, Great Expectations and David Copperfield. In 1994 he was again commissioned by the BBC to draw all the concerts that season at the Royal Albert Hall, commemorating the 100th anniversary of the world-famous Henry Wood Promenade Concerts.